The Wood wheels, also known as Wooden are a set of unlockable wheels in Mario Kart 7 and in Mario Kart 8.
In Mario Kart 7, they offer good acceleration and handling, but bad speed and weight.
In Mario Kart 8, they give an advantage in acceleration and traction, but a disadvantage in speed, weight, and handling. Its stats are identical with the Sponge and Cushion tires.
History
Mario Kart 7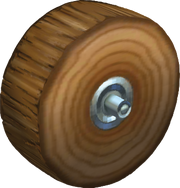 The Wood wheels makes its first appearance in Mario Kart 7. They provide a good boost to acceleration and a better one to handling, but their speed and weight are hindered.
Additionally, the Wood tires are the only set of tires to offer a handling boost, but no off-road boost.
Mario Kart 8
They return in Mario Kart 8. This time though, they look more like wagon wheels, similar to the tires used for the Heart Coach and Bloom Coach from Mario Kart: Double Dash!! and the Daytripper from Mario Kart Wii.
A CPU-controlled Bowser or Koopaling will occasionally use this wheel, paired with the Landship.
Statistics
Mario Kart 7
Mario Kart 8