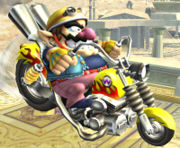 The
Wario Bike
is a heavyweight bike in
Mario Kart Wii
. The 
Wario Bike
did appear in the Mario spinoff seires known as the WarioWare series. The vehicle is designed for Wario, and looks like Wario's official bike used in other games in their respective series.
The Wario Bike is beginner-friendly, having the best acceleration and weight of all heavyweight bikes, good mini-turbo, as well as above-average offroad. In this regard, the bike is great for players who want a heavy bike that isn't harsh on players that have trouble maintaining top speed. However, the Wario Bike has the lowest top speed among bikes, has a poor drift stat, and has outside drift, making it a very unfriendly bike for more advanced players of Mario Kart Wii that rely more on speed and fast cornering than acceleration, weight, and offroad performance.
Staff Ghosts using this bike
Statistics
Ad blocker interference detected!
Wikia is a free-to-use site that makes money from advertising. We have a modified experience for viewers using ad blockers

Wikia is not accessible if you've made further modifications. Remove the custom ad blocker rule(s) and the page will load as expected.