The Villager is a character from the Animal Crossing series. He joined Mario Kart 8 on April 23, 2015, through the second DLC pack, named: Animal Crossing: New Leaf X Mario Kart 8. When selected, a dropdown menu containing him and his female counterpart will appear. He will also be joined by Isabelle (also from Animal Crossing) and Dry Bowser.
He also appears in Mario Kart 8 Deluxe however this time, he and the Female Villager have been separated.
Characteristics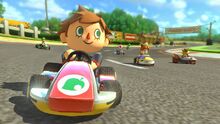 Villager's role in
Animal Crossing: New Leaf
, as you might of guessed, is a villager. He has a back shirt with res trim on the sleeves, and he has shaggy, brown hair. His nose is red and is eyes are green.
Ad blocker interference detected!
Wikia is a free-to-use site that makes money from advertising. We have a modified experience for viewers using ad blockers

Wikia is not accessible if you've made further modifications. Remove the custom ad blocker rule(s) and the page will load as expected.