Toad Circuit is the first track of the Mushroom Cup, which makes it the introductory course of Mario Kart 7. Continuing the legacy of all circuits appearing at the start of the game, this Toad Circuit is a fairly simple track with no tricky challenges/obstacles, and is owned by Toads. Giant Toad-styled balloons are stung up around the track, which is what the circuit's name is based off of.
The Staff Ghost for Toad Circuit is obviously Toad.
Layout
The map starts out with about a 50 meter straightway into a simple right curve, to which players can pick up a few Coins and Item Boxes. After it pans out, another straightway, this one longer than the previous, goes underneath the starting grid, where there's Boost Pads to propel players forward. A center column separates the two pads. However, on the 2nd lap, A panel right in front of the column opens up to reveal a Gliding Ramp, the first of many in Mario Kart 7. In the air, there's two patches of 5 Coins in a domino formation. So, either the Dash Panels or Glider can be taken, both offer equal acceleration.
After this section, the road goes into a wide, dimly lit tunnel while turning slightly left. Once racers exit the tunnel, another left curve, this one sharper, circles around a patch of dirt. Finally, one more last left turn, with the outer edge of it Coined up, the finish line follows.
Large, open stadiums lay around the edge of the track, and confetti usually falls when near them. 3 huge Toad Balloons, colored red, blue and yellow, are stringed around the track, which can be a little distracting. Toad banners and other Toad-themed stuff is everywhere.
Shortcuts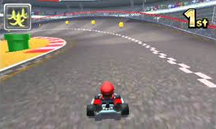 After exiting the tunnel, you can cut through the patch of dirt with a Starman, Mushroom, or another booster to cut off some very nice time. A ramp in the center of the sand plot lets players perform a Jump Boost for extra distance. It's used extensively in Time Trials.
Mario Kart Trivia
The 1st, 2nd, and 3rd place winners do a victory lap on Toad Circuit, with 2nd and 3rd driving and 1st gliding in, victorious.
Previous track:
None

Current track:
Toad Circuit
Previous track:
None

Recently reappeared in:
None

Next track:
None
Ad blocker interference detected!
Wikia is a free-to-use site that makes money from advertising. We have a modified experience for viewers using ad blockers

Wikia is not accessible if you've made further modifications. Remove the custom ad blocker rule(s) and the page will load as expected.