Tilt-A-Kart
Talk

0
470pages on
this wiki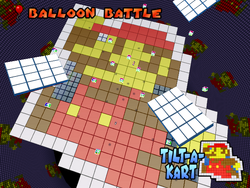 Tilt-A-Kart is a Battle Stage in Mario Kart: Double Dash!!, and is one the toughest battle stages to accomplish. This stage tilts at regular intervals, hence the name. Item Boxes bounce up and down, and sometimes fall off the stage when the stage tilts. The white blocks on the edge of the stage slow you down, helping you stop if you accidentally fall to the edge.
This is the last battle stage you can unlock in Mario Kart: Double Dash!!: -To unlock, finish Flower Cup on Mirror Mode.
Trivia
The stage is made up of an 8-bit Mario sprite.
The music that plays is a slight remix of Baby Park's music.

This article is a stub. You can help Mario Kart Racing Wiki by expanding it.