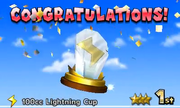 Star Ranks are a classification on how skilled a player is on Mario Kart: Super Circuit, Mario Kart DS, Mario Kart Wii, Mario Kart 7, and Mario Kart 8. The player earns them for Grand Prix and Mission Mode. There are three variations of star ranks. There's 1-star rank, 2-star rank, and 3-star rank, 3-star being the hardest to earn.
External Links
Ad blocker interference detected!
Wikia is a free-to-use site that makes money from advertising. We have a modified experience for viewers using ad blockers

Wikia is not accessible if you've made further modifications. Remove the custom ad blocker rule(s) and the page will load as expected.