The Standard LG is a kart in Mario Kart DS. This is one of three karts Luigi has, the others being Streamliner and Poltergust 4000.
Compared to the Standard MR, it is a little slower, slightly better acceleration, less weight, wider drift, and has better handling. The Standard LG kart is in green, like Luigi's hat, making it one of two green Standard Karts in the game (the other is Yoshi's Standard YS). The Standard Kart M replaces this kart in Mario Kart Wii and is also green when Luigi is racing in it.
Statistics
Gallery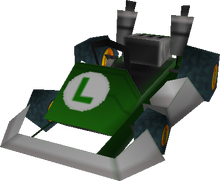 Ad blocker interference detected!
Wikia is a free-to-use site that makes money from advertising. We have a modified experience for viewers using ad blockers

Wikia is not accessible if you've made further modifications. Remove the custom ad blocker rule(s) and the page will load as expected.