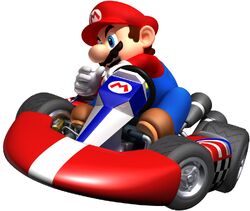 Standard Kart M is a kart for medium-sized characters in Mario Kart Wii. As its name says, it is a standard kart for medium weight characters. It is also available from the start. It has the same appearance as the Standard Kart S and Standard Kart L.
Statistics
Almost every stat is average for this kart. Speed, weight, acceleration, handling, drift, and mini-turbo are in medium levels except for its off-road, which can make it difficult for players to speed up when off the road.
Colors
Gallery
Ad blocker interference detected!
Wikia is a free-to-use site that makes money from advertising. We have a modified experience for viewers using ad blockers

Wikia is not accessible if you've made further modifications. Remove the custom ad blocker rule(s) and the page will load as expected.