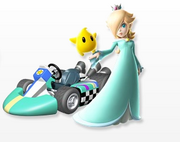 The Standard Kart L is a kart for large-sized characters in Mario Kart Wii.
Statistics
Colors 
Only the Following can ride this Kart:
King Boo- Black body, White stripe
Rosalina- Turquoise body, Lemon-Yellow stripe
Wario- Yellow body, White stripe
Bowser- Olive-Green body, White stripe
Waluigi- Purple body, White stripe
Donkey Kong- Brown body, White stripe
Funky Kong- White body, Sky-Blue stripe 
Dry Bowser- Blonde body, White stripe
Male Mii- White body, Blue stripe
Female Mii- White body, Pink stripe
Ghosts
King Boo- SNES Ghost Valley 2
Dry Bowser- GBA Bowser Castle 3
Ad blocker interference detected!
Wikia is a free-to-use site that makes money from advertising. We have a modified experience for viewers using ad blockers

Wikia is not accessible if you've made further modifications. Remove the custom ad blocker rule(s) and the page will load as expected.