The Sports Coupe, also known as the Sports Coupé is an unlockable kart in Mario Kart 8. It is a yellow and black body, which resembles a sports car.
Unlike most other karts, the exhaust pipe is located on the top of the trunk of the vehicle.
It offers good speed & weight, but bad acceleration & traction. Its handling gives no effect. Its stats are identical to the Mach 8, Circuit Special, B Dasher, and P-Wing.
Statistics
Gallery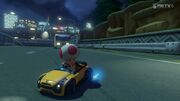 Ad blocker interference detected!
Wikia is a free-to-use site that makes money from advertising. We have a modified experience for viewers using ad blockers

Wikia is not accessible if you've made further modifications. Remove the custom ad blocker rule(s) and the page will load as expected.