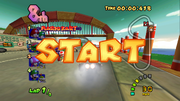 The Speedometer is a feature in earlier Mario Kart games that shows how fast a kart is driving. The Speedometer can only reach its limit while on 150cc engine class. It can even go OVER the max when using a Mushroom or Boost Pad.
First introduced in Mario Kart 64, it was a second option that could be toggled on in place of the mini-map (third option was distance view). It appears on the bottom right hand corner of the game screen in Mario Kart: Double Dash!!. In both games it is only available in single-player mode (or co-op Grand Prix). It also appears in the Time Trial mode for Mario Kart: Super Circuit.
Trivia!
A speedometer was going to appear in Mario Kart DS, which can be seen in some early screenshots, but it got removed in the final game.
In Mario Kart Double Dash!!, it will also be displayed if a two-player co-op Grand Prix is played.
The speedometer is now absent in recent Mario Kart games, starting in Mario Kart Wii, because of its uselessness.
Ad blocker interference detected!
Wikia is a free-to-use site that makes money from advertising. We have a modified experience for viewers using ad blockers

Wikia is not accessible if you've made further modifications. Remove the custom ad blocker rule(s) and the page will load as expected.