Rosalina (ロゼッタ), protector of the cosmos, makes her first playable appearance in Mario Kart Wii in April 2008, a few months after Super Mario Galaxy came out, where she is a heavyweight unlockable character. Rosalina rides in large karts, and is the first and only female character to ever be in this class. While racing, a Luma orbits around Rosalina. Rosalina's racing symbol is a Grand Star. Rosalina is the Staff Ghost character for Rainbow Road.
Rosalina is also playable in Mario Kart 7, where she is an unlockable medium-large "Cruiser"-type character. She also has her own course in the game, named Rosalina's Ice World. She returned in Mario Kart 8.
Characteristics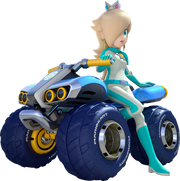 Rosalina is a tall woman, taller than both
Peach
and
Mario
and she looks similar to Peach. However her overall appearance is sharper; her skin is paler than Peach, her eyes are a lighter shade of blue, and her hair is a much lighter blonde (possibly red as a child) than Peach. She wears purple nail polish, and has a large bang which covers her right eye. 
Rosalina wears a long sleeved, flowing turquoise-colored dress, which the color was said to be only existed when the sun peers out of the clouds. Like Peach, she wears a brooch located on her chest, but it's star-shaped and the color is silver. It also has a yellow circle in the middle. She also wears a silver crown with red and blue gems, yellow star-shaped earrings and silver high heels. The collar of her gown cuts off at her brooch, with a powder blue flap that loops around it, and has long sleeves with a wide opening at the end, also topped with powder blue frills. At the bottom of her dress is another frill which loops around the dress's end until turning up on a point at the middle; under it a white skirt is visible. In Super Mario Galaxy she carries a silver wand with a hollow yellow star at the end. Also in Super Smash Bros for wii u and 3ds, the bottom of her dress is glittered with star patterns, and her high heels are light green instead of silver.
Like Peach and Daisy, Rosalina wears a jumpsuit when she is driving bikes in Mario Kart Wii and Mario Kart 8. The outfit is white and has an outline which is the same color of her dress. Her gloves and boots' color are also the same as her dress. She wears a teal scarf, and keeps her star-shaped brooch at her chest. She alao has a teal heart at the back of her outfit.
Exclusive to Mario Kart Wii only, a yellow Luma orbits around her when she's racing, and made small sounds when she did a trick.  
Appearances in Mario Kart games
How to Unlock
Mario Kart Wii
In order to unlock Rosalina in MarioKart Wii, you may have a saved file of Super Mario Galaxy on your Wii System, then preform a total of 50 or more races to unlock Rosalina.
Alternitavley, Get a minimum 1 Star ranking on all Cups in Mirror Mode.
Play a total of 4,590 races to unlock Rosalina, this whom is knows as he easiest way to unlock Rosalina, even though the number seems large, if your are not much of a pro... you can just have fun racing and complete a race nearly 5,000 times to unlock Rosalina, if you play the game often this number will excel quicker.
Win gold on any CC (it will be random).
Staff Ghost Tracks
Gallery