Rosalina, protector of the cosmos, makes her first playable appearance in Mario Kart Wii, where she is a large-sized unlockable character. Rosalina's name in Japan is Rozetta (ロゼッタ). Rosalina rides in large karts, and is the first female character to ever be in this class. While racing, a Luma orbits around Rosalina. Rosalina's racing symbol is a Grand Star. Rosalina is the Staff Ghost character for Rainbow Road, and is also the only female large-sized character in the game.
Rosalina is also playable in Mario Kart 7, where she is an unlockable medium-large "Cruiser"-type character. She also has her own course in the game, named Rosalina's Ice World. She returned in Mario Kart 8.
Characteristics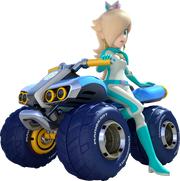 Rosalina is a tall, She looks somewhat similar to
Princess Peach
, but there are some important factors that describe only Rosalina. Her dress is an ice blue color all over. The bottom of her dress cuts off into a triangle, so a white dress can be seen underneath her dress. Rosalina's dress has an even lighter blue on the trim, and round her arms, the lace goes well past her wrist. She has light blue high heels, and there is a pattern of stars on either side of her dress. Her necklace is in the shape of a star and is white with a golden centerpiece in the middle of it. She carries a wand with a hollow star on the end of it, so she is magical, of course. She has platinum star earrings (Rosalina loves stars, as you might have guessed). Her hair is a much lighter shade of blonde than
Princess Peach
, and it curls out a little at the end, similar to
Daisy
's.  She has a long fringe covering her right eye. Rosalina's eyes are aqua blue, and she has long eyelashes. 
Similar to Peach and Daisy's biker outfits, Rosalina also dons a special biker suit when she is on bikes in Mario Kart Wii and Mario Kart 8. The outfit is mainly white, but it is outlined with a light shade of blue, just like Rosalina's dress. Her shoulder's arms, legs, and body all have a blue stripe going down them. Her racing boots are the same color as her outlines, and her gloves are also blue. 
Exclusive to Mario Kart Wii only, a yellow Luma orbits around her.  
Appearances in Mario Kart games
How to unlock
Mario Kart Wii
There are three ways to unlock Rosalina in Mario Kart Wii.
Make a save file on Super Mario Galaxy, then perform 50 races.
Get a minimum 1 Star ranking on all Cups in 150cc Mirror Mode.
Play 4950 races.
Mario Kart 7
Mario Kart 8
Win gold on any Cc (it will be random).
Staff Ghost Tracks
Gallery