Rock Rock Mountain (known as Alpine Pass in Europe) is the final track in Flower Cup in Mario Kart 7. Taking place on a mountain with relentless flying boulders and annoying Swoopers, while glider pads send racers soaring into the sky, it's an intense race all the way through and a sight to behold. This track has not appeared in a recent Mario Kart game yet.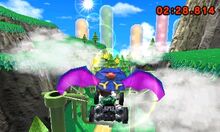 Previous track:
None

Recently reappeared in:
None

Next track:
None

This article is a stub. You can help Mario Kart Racing Wiki by expanding it.

Ad blocker interference detected!
Wikia is a free-to-use site that makes money from advertising. We have a modified experience for viewers using ad blockers

Wikia is not accessible if you've made further modifications. Remove the custom ad blocker rule(s) and the page will load as expected.