Resetti

Artwork of Resetti from Animal Crossing: Wild World.
First Appearance
Mario Kart 8 (2014)
Latest Appearance
Mario Kart 8
Total Appearances
Mario Kart 8
Weight Class(es)
N/A

Resetti is a bad-tempered mole in the Animal Crossing series. His job is to scold players for accidentally turning off the game without saving or resetting it. He is usually very abrasive about this subject...
For that reason, Resetti makes cameos in other Nintendo games like Super Smash Bros. Brawl as an annoying assist trophy. Similarly, he is a disruptive obstacle in the Mario Kart 8 track Animal Crossing.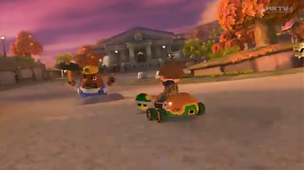 Resetti takes the role of the usual
Monty Moles
, digging underground with his pickaxe and popping out. Running into him will cause you to spin out, as expected.
Ad blocker interference detected!
Wikia is a free-to-use site that makes money from advertising. We have a modified experience for viewers using ad blockers

Wikia is not accessible if you've made further modifications. Remove the custom ad blocker rule(s) and the page will load as expected.