This article is a stub. You can help Mario Kart Racing Wiki by expanding it.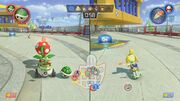 Renegade Roundup is a new mode in Mario Kart 8 Deluxe.
The mode is part of the Battle Mode and there are two teams. One team use Piranha Plants attack to the other team. Who is hit, retires. The other team tries to stay away until the time runs out, and can free eliminated members of their team.
Ad blocker interference detected!
Wikia is a free-to-use site that makes money from advertising. We have a modified experience for viewers using ad blockers

Wikia is not accessible if you've made further modifications. Remove the custom ad blocker rule(s) and the page will load as expected.