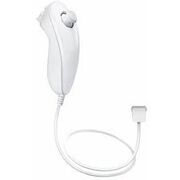 The nunchuck is the controller that comes with the wii and is used for 3d navigation games (most of the time), such as Super Mario Galaxy. The nunchuk has 3 buttons and a cable to plug into your wii remote, the three buttons are: joystick, Z button and the c button. The nunchuk happens to have sensors integrated inside the controller. The main use of a nunchuck is to play
Mario Kart: Double Dash!!
on a wii without having to use a
Nintendo GameCube (controller)
.
External links
An article on the wii nunchuk: [1]