The GameCube Controller is a controller used for the Nintendo GameCube. It has eight buttons, and two joysticks.
The standard GameCube controller has a wing grip design. This controller was bundled with all new GameCube systems throughout the console's life cycle and was also available separately. Due to the Wii's ability to use GameCube controller input, all official GameCube controllers may be used on the Wii.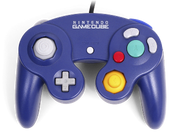 Gallery
Ad blocker interference detected!
Wikia is a free-to-use site that makes money from advertising. We have a modified experience for viewers using ad blockers

Wikia is not accessible if you've made further modifications. Remove the custom ad blocker rule(s) and the page will load as expected.