The Mush Run is a shroom-shaped vehicle of Toad's from two Mario Kart arcade games, Mario Kart Arcade GP 2 and Mario Kart Arcade GP DX. No unlocking is needed.
In both games, this stout little kart offers surprisingly good speed for its low weight, but that's how arcade games do the trade off, similar to Mario Kart 64.
Description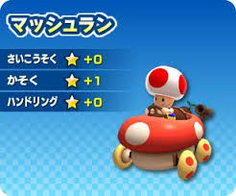 If you've played Mario Kart DS before, chances are that this kart looks recognizable... the frame of the Mush Run is meant to simulate a power-up Mushroom, with a tan underside and dull red cap. 4 large white spots ring the top of the vehicle, and in the back, a pair of wooden thrusters extend upwards and away. Toad or any other racer's logo is displayed on the front of the Mush Run, and the tires are composed of mushrooms. However, they aren't official Mushroom wheels (no stat bonuses or stat rebounds take place, and their appearance differs. They are a faint yellow with orange spots.).
Minor differences in the Mario Kart Arcade GP DX version include an absent icon and a more darkish red shroom cap.
Statistics
Because of the Mush Run's weight, it's liable to be bumped around by Heavyweight racers. Luckily, superior speed can help it avoid interception.
The Mush Run's stats don't differ that much in the preceding Mario Kart arcade game... speed has a slight advantage, but besides that, it's an average kart.
Trivia!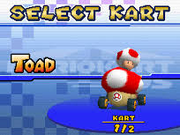 Yes, it's completely evident that the Mush Run is based heavily off of Toad's Mushmellow from Mario Kart DS... It's probably a sequel or tribute kinda vehicle.
In Mario Kart Arcade GP 2, the vehicle was just simply one of Toad's, and without a name. It wasn't until Mario Kart Arcade GP DX that it was actually GIVEN a name (Mush Run).
The name seems to be a play on the word "Mushroom". The shape being a mushroom alludes to this.
Gallery
Ad blocker interference detected!
Wikia is a free-to-use site that makes money from advertising. We have a modified experience for viewers using ad blockers

Wikia is not accessible if you've made further modifications. Remove the custom ad blocker rule(s) and the page will load as expected.