Mario Kart Arcade GP is the first arcade version of a Mario Kart game, released in 2005.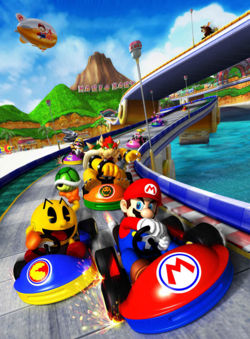 Characters
Stages
Mario Stage
Donkey Kong Stage
Wario Stage
Pac-Man Stage
Bowser Stage
Rainbow Stage
(Note: Rainbow Stage is only unlocked if the player completes the first 5 stages.)
Items
There are over 100 items in this game, making the Mario Kart Arcade GP games having the record for the most items. Here are just some of them.
Gallery
Videos
Ad blocker interference detected!
Wikia is a free-to-use site that makes money from advertising. We have a modified experience for viewers using ad blockers

Wikia is not accessible if you've made further modifications. Remove the custom ad blocker rule(s) and the page will load as expected.