Mario Kart: Virtual Cup is a homebrew game made for the Virtual Boy made by DogP, in 2008.
Gameplay
The gameplay is very similar to Super Mario Kart, but without any other AI racers, as this is a homebrew techdemo. There are 3 modes but only Time Trial mode is properly implemented.
Characters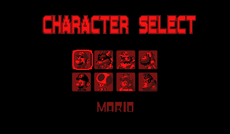 Trivia!
All cups except Special Cup have only one course.
All of the drivers have the same design animations from the original Super Mario Kart during races.

The character animation for Donkey Kong in races (not on title or selection screen) is actually Donkey Kong Jr., from Super Mario Kart.

All tracks have the same theme- the original SNES Mario Circuit theme.
The reason why Special Cup is non-functioning is because of a course not chosen, and the game is a simple homebrew tech demo.