Luigi aids his brother Mario in his numerous quests to save the kidnapped Peach from Bowser (although he likes Princess Daisy. Guess he's just a nice, helpful guy.) in the Super Mario games.
Since his first appearance in Super Mario Bros., Luigi has co-starred (and even been the main character in games such as Luigi's Mansion) in the preceding titles, including the widely-known Mario Kart series. He is a playable Character in every installment.
Description
Luigi a noticeably taller than his brother, Mario, and he is also a little bit more lean. And also, a bit heavier. Yeah, he works out. They both have Italian accents. Luigi wears brown shoes and overalls like Mario, but Luigi's overalls are noticeably a darker shade of blue. Luigi has a green long sleeved shirt and wears white gloves. He has a brown mustache and brown hair. And he has his own special green hat with his initial (L) on it.
Appearances in Mario Kart games
Karts and Bikes
Staff Ghost Tracks
*As a Retro Track
Trivia
Furious that the "Year of Luigi" was declared over, the green-clad plumber is hitting the tracks with some serious attitude. A meme has emerged where images and clips depict Luigi giving his now famous 'Death Stare' at other opponents as he drives past them, usually after hitting them with an item.[1]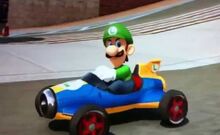 References
Ad blocker interference detected!
Wikia is a free-to-use site that makes money from advertising. We have a modified experience for viewers using ad blockers

Wikia is not accessible if you've made further modifications. Remove the custom ad blocker rule(s) and the page will load as expected.