Luigi aids his brother Mario in his numerous quests to save the kidnapped Peach from Bowser (although he likes Princess Daisy. Guess he's just a nice, helpful guy.) in the Super Mario games.
Since his first appearance in Mario Bros., Luigi has co-starred (and even been the main character in games such as Luigi's Mansion) in the preceding titles, including the widely-known Mario Kart series. He is a playable character in every installment. Mach 8 is his signature kart according to a trailer. He also has his own series of games called Luigi's Mansion.
Description
Luigi a noticeably taller than his brother, Mario, and he is also a little bit more lean. And also, a bit heavier. Yeah, he works out. They both have Italian accents. Luigi wears brown shoes and overalls like Mario, but Luigi's overalls are noticeably a darker shade of blue. Luigi has a green long sleeved shirt and wears white gloves, the first 3 Mario & Luigi games also confirm that Luigi has red-striped socks that look like candy canes. He has a brown mustache and brown hair. And he has his own special green hat with his initial (L) on it.
Appearances in Mario Kart games
Karts and Bikes
Staff Ghost Tracks
* - Retro track
Trivia!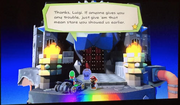 References