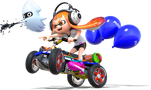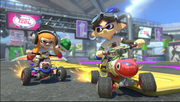 Inklings are the protagonists of the game Splatoon and its sequel. These humanoids are part human, part squid, and can change between the two forms at will. Inklings live in a city named appropriately named Inkopolis. They will debut in as playable racers in Mario Kart 8 Deluxe in a wide variety of forms and colors.
Description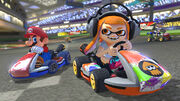 To Be Announced
Vehicles
List of Appearances:
Trivia!
You can choose either a female or male Inkling, much like an Animal Crossing Villager.
Inklings (when in squid form) show some resemblance to Bloopers, another ink-squirting character from the Mario series.
Inkling Girl made a gesture similar to an "Up Yours" gesture, this was removed in later updates.
Links
Gallery
Ad blocker interference detected!
Wikia is a free-to-use site that makes money from advertising. We have a modified experience for viewers using ad blockers

Wikia is not accessible if you've made further modifications. Remove the custom ad blocker rule(s) and the page will load as expected.