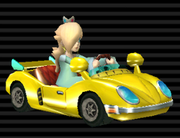 The Honeycoupe (Dragonetti outside of North America) is a heavy Kart in Mario Kart Wii. It can be unlocked by finishing the 150cc Lightning Cup in first place or by playing 3,000 games. It is a very heavy kart with great speed, drift, and mini-turbo, but its off-road is very low, and its handling and acceleration are also poor. Resembling an old Porsche, the kart has headlights in the front, rear-view mirrors, and even a license plate with the character's emblem. It slightly resembles the Parade Kart from Mario Kart: Double Dash!!, especially when Rosalina is driving it. When Wario is driving the Honeycoupe it strongly resembles the Wario Car from Mario Kart: Double Dash!!.
Statistics
Ad blocker interference detected!
Wikia is a free-to-use site that makes money from advertising. We have a modified experience for viewers using ad blockers

Wikia is not accessible if you've made further modifications. Remove the custom ad blocker rule(s) and the page will load as expected.