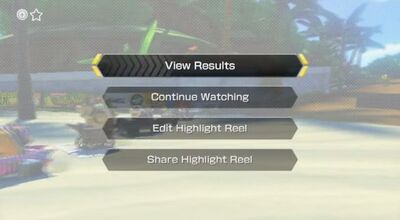 Highlight Reel (known as Replay in previous games) is a player's recorded race after the race is over. It debuted in Mario Kart: Super Circuit. The Highlight Reel is the main feature in Mario Kart 8 to see the highlights of the race with Mario Kart TV.
History
Highlight Reels debuted in Mario Kart 8, replacing Replay. Unlike previous versions, the player can now adjust the featured racers, time, types, and music/sound on and off. Players can post highlight reels to Miiverse or upload to YouTube. The sections are Recent, Global Popular, Global Recent, and folders that contain Friends and/or a random tournament.
Even though players can no longer post highlight reels to Miiverse or YouTube, however, players can still create highlight reels and see someone else's highlight reels.
Description
Players can watch it again and again if they want. They can view the replay to point out special moments.