Dry Dry Desert
Talk

0
475pages on
this wiki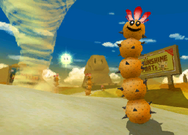 Dry Dry Desert
is the last track of the
Mushroom Cup
in
Mario Kart: Double Dash!!,
and is set to reappear in the upcoming game
Mario Kart 8
. It is an Egyptian-themed desert with Egyptian-themed music. It is very humid, and the entire track is a yellow, sandy road. The darkest sand is considered "out-of-bounds".
It features and introduces Pokeys as moving obstacles that cause spin-outs when touched. If hit by a powerful item (such as a Starman), they will topple over. Also featured is a prevalent tornado that will move along the track sucking up racers and items. There is also a tricky part with quicksand that must be driven around quickly, as driving/being sucked into the middle without protection results in being eaten by some type of Piranha Plant.
There is a similar track in Mario Kart Wii called Dry Dry Ruins.
Mario Kart 8
Dry Dry Desert is set to reappear in the upcoming game Mario Kart 8. Many new features have been shown to be in the course, including the pillars from Dry Dry Ruins in Mario Kart Wii. The hill section of the course has been removed, and replaced with an oasis instead. It appears that the tornadoes have been removed from the course entirely. It will appear in the Banana Cup.