Coming from the primarily Japanese game series of Taiko no Tatsujin (太鼓の達人), Don-chan (どんちゃん) is the Taiko-like main character of the rhythm-based series.
But when the beat isn't calling, Don-chan crosses over to the Mario series, taking the wheel in Mario Kart Arcade GP DX. This default character is lacking of Speed but makes up for it with peak Handling and a nice drum solo.
Characteristics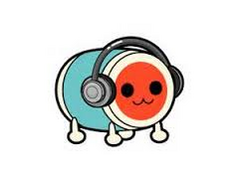 So, what exactly is Don-chan? A living Taiko (太鼓). If you don't know what that is, it's a Japanese drum, sort of reminiscent to a conga. Don-chan has a light blue cylindrical body with a black beam running across the middle. A white design is printed on the side of his base, and his bottom is also colored white. Nearing Don-chan's face, the blue-ish tint gets a little darker. The part where you would beat the drum (but don't beat Don-chan, or he'll beat you [in the race]) is Don-chan's face, with a white trim going around the reddish-orange cover. He has two gazing black eyes and a usually happy smile on his face. Arms and legs extend from the edges of the racer/drum, each ending in a light ball for hands and feet. A white cord is tied onto Don-chan's back, making him look sorta like a keychain (You know, the thing you put on your backpack). It's probably to hang over someone's neck, or maybe just an accessory.
Statistics
As far as size, Don-chan is the smallest Mario Kart character out off all the games so far, even smaller than Toad. His short stature makes his speed meager, but boosts and handling greatly benefit from it.
Trivia!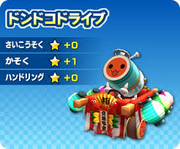 Don-chan has a couple of pallet swaps (Yes, every Mario Kart racer has to be corrupted with them, even non-Mario characters...), Strawberry Don-chan and Hero-Don-chan.
Narahashi Miki (楢橋 美紀), a Japanese professional voice actress, has voiced Don-chan since 2001.
Along with Pac-Man, Ms. Pac-Man, Mametchi, and a few other characters, Don-chan another racer from outside the Super Mario series. The Mario Kart Arcade GP titles usually introduce these NamcoTM crossover characters.
Gallery
Ad blocker interference detected!
Wikia is a free-to-use site that makes money from advertising. We have a modified experience for viewers using ad blockers

Wikia is not accessible if you've made further modifications. Remove the custom ad blocker rule(s) and the page will load as expected.