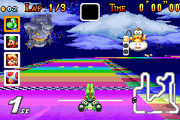 Your current position shows what place you're in while racing in the Mario Kart series. The position changes when you pass a racer, fall in traps & more. This feature also gives you points in Grand Prix mode for your performance at the end of the race to determine your final score at the end of the cup. So if you finish the race in 1st place, then you'll start the next race in that same position as in the previous race.
Gallery
Trivia!
In Super Mario Kart, Mario Kart 7, and Mario Kart 8, the current position is on the right side.
From Mario Kart 64 to Mario Kart Wii, the current position was on the left side.