Choco Mountain
Comments

0
580pages on
this wiki
Choco Mountain
is the 3rd track in the
Flower Cup
in
Mario Kart 64
. It is brown, and as the name suggests, it is probably chocolate. It features a chocolate tunnel shaped like a pyramid, and at one point, big chocolate boulders crash down onto the track. If a player is hit by these boulders, it'll knock them off the track or flatten them. Shortly before the finish line, there's a point where the players can fall to a lower section of the track, losing about 20 seconds. In
50cc mode
as well as
Time Trials
, there are railings along the cliff which prevent you from falling. Meanwhile, in
100cc
and
150cc
, there is no railing, which makes it possible to fall, or knock someone down.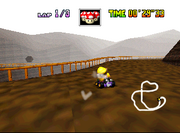 Mario Kart DS
This track returns in
Mario Kart DS
in the
Leaf Cup
. The track is still pretty much the same from the N64 version, except, if a player/computer gets hit by a boulder here, he/she will be flattened, thus slowing them down. In Mission 4-6,
Donkey Kong
has to destroy 10
Item Boxes
while avoiding the
Fake Item Boxes
. The
Staff Ghost
uses
Wario
in the
Dragonfly
.