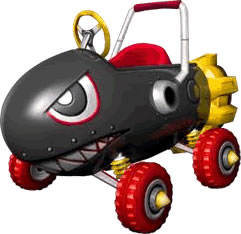 The Bullet Blaster is a kart in Mario Kart: Double Dash!!, and can be unlocked by winning first place on 50cc Special Cup. It is black like a Bullet Bill (similar to the Bullet Bike from Mario Kart Wii). It is the Kart that Bowser Jr. "uses". It boasts an amazing amount of speed for a light-weight kart. Its acceleration is better than those of heavy karts and is the same as most light karts. It takes its design from Super Mario Sunshine. Note: This kart is extremely lightweight, and can be knocked off course easily.
Statistics
Ad blocker interference detected!
Wikia is a free-to-use site that makes money from advertising. We have a modified experience for viewers using ad blockers

Wikia is not accessible if you've made further modifications. Remove the custom ad blocker rule(s) and the page will load as expected.