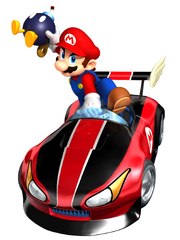 Bob-omb
Have an image of this item?
Then please upload it!

Bob-ombs have been used as items in several Mario sports titles. In Mario Kart: Double Dash!! they were Wario and Waluigi's signature item. Petey Piranha and King Boo also can possess this item because they have the ability to get any special. In other Mario Kart games, it is an Item usually the 2nd, 3rd or 4th place racers get. When thrown,the Bob-bomb stand still for a moment before exploding, throwing any nearby drivers into the air. Even the person who threw it will be tossed up if they're close enough. Bob-omb Cars can be seen in Mushroom City and Moonview Highway, (despite having no arms) and if a Player accidentally drives into it, it will explode like the Bob-ombs thrown by racers. It is unknown if the Bob-ombs were actually driving the car. In Mario Kart Wii and others a Bob-omb is useful for other things than just blowing up rivals; for example, if you are in first place and a Blue Shell is above you, you will have enough time to launch a Bob-omb to take it out.