Block Fort
Talk

0
470pages on
this wiki
Block Fort is a Battle Stage in Mario Kart 64, also reappearing in Mario Kart DS. There are also stages based on it: Mario Kart: Double Dash!!' s Block City and Mario Kart Wii's Block Plaza.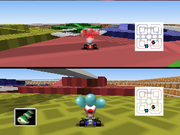 Block Fort is one of four battle stages in Mario Kart 64. The stage has got four large fortresses. They are red, blue, yellow and green and are connected by bridges; one on the bottom of the stage and one on the top. The bridges appear to be metal and are gray. The bridge at the top is generally slightly longer than the one at the second level. The floor is blue. In this stage, there's a large amount of Item Boxes, especially between the blocks at the lowest level. Green Shells are a nuisance, since they just bounce off of the walls. Red Shells are next to useless, since they'll home into a higher enemy and crash, which is not necessarily what you want.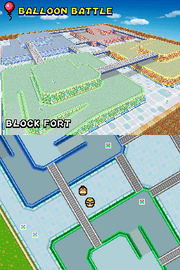 Block Fort is a battle stage for Balloon Battle and Shine Runners. It is the largest stage, and battling CPUs at a normal difficulty would probably take about six minutes or more. It's quite easy to hide, but watch out anyway, just in case they're using the overall map view and could therefore track you down. The top level is usually safer, but if you'd like to take out your enemies, then the middle level is recommended. Several techniques are possible against the CPUs, such as Banana Peels and Fake Item Boxes on the bridges. However, those that can will drive to the side of the bridge, dodging your traps and wasting your effort. Mission 6-4 takes place here. Mario has to destroy 10 moving item boxes.